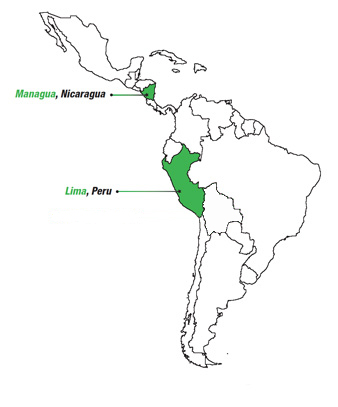 As the world becomes ever more globalized, US companies find a need and reward, in providing bilingual services to their customers.  Our near and offshore call centers provide this kind of service thanks to our specially selected personnel. All of our representatives in Latin America are fluent English and Spanish speakers. This kind of service is highly sought after, and Responsive delivers the best kind of bilingual call center services available.
All our offshore international call center representatives are tested for accent, reading and writing skills in both languages before being hired.  They're tested after an intense three-week training program to ensure they can respond to US-based customers both in the English and Spanish language. Our international call center services are second to none!
Latin American Locations
Our Latin-American call center offices are located in Nicaragua and Peru. If you're interested in visiting these locations as a requisite for hiring our services, please let us know and we'll see if we can accommodate such request. Our international call centers follow high quality standards of work environments.
Below is a list of our International Call Center addresses:
Responsive Offices Managua, Nicaragua
Ofiplaza El Retiro,
Building 8, 2nd Floor
,
Managua
,
Nicaragua
Responsive Offices Lima, Peru
Jose del Llano Zapata,
#419 Miraflores
,
Lima
,
Peru