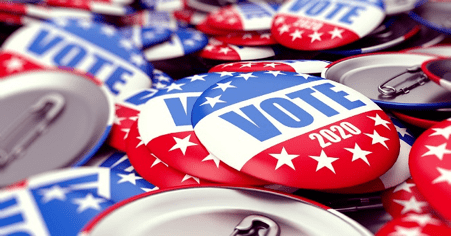 With the 2020 election season well underway, political campaign strategists who want to make certain that their important calls to voters are being made and answered work with Responsive Call Center to create their Political Campaign Call Centers. Our operators serve as effective representatives of campaigns and are fully trained in and dedicated to respecting all privacy laws and nondisclosure agreements.
For years, we have supported the call center efforts of local candidates' campaigns and others – including presidential campaigns. Our live operators and sophisticated call center technology put your campaign ahead of the competition in several important ways.
• Call Answering and Redirection – When having live, professional operators field calls can make the difference between getting or losing a vote, Responsive Call Center delivers. Trained to answer and route calls as a member of your staff would do and just as you specify, they are invaluable members of your team.
• Calling Outbound Leads – Because we know that political campaigns need to conduct significant outreach and often within compressed periods, Responsive Call Center has professional operators available to call all of the potential voters that are important to you. They are trained to treat every contact as an opportunity to influence.
• Automated Call Service – This comprises the delivery of your campaign's pre-recorded audio message delivered to those you specify precisely at the time that is right for your voters.
• Press 1 Campaign – When you would like your calls to have the option to transfer to a live operator who can collect data and feedback, Responsive Call Center offers the Press 1 service option.
• Local Calling Numbers – Responsive provides these numbers that match your contacts' locations to help you increase potential voter engagement.
• Voicemail Messages – Make sure your message is delivered when your calls go to voicemail. Responsive Call Center's technology deploys your specially pre-recorded message designed for this purpose.
• Comprehensive Campaign Call Reports and Analytics – You have access to completely transparent call analytics in real-time and the ability to shift strategy quickly using information such as how many contacts were reached, their responses and the days and times the calls were most successful.
• Responsive Call Center Syncs with Your CRM to Provide Seamless Service – This allows your service to be up and running quickly and makes importing voter information easy.
Responsive Call Center is Your Political Call Center Resource
Responsive Call Center's operators are well-versed in providing call center services for political campaigns both locally and nationally. We have live operators available 24/7/365 to handle all of the calling services that are vital to a winning political effort. Contact us to learn more about how we can help you create your Campaign Call Center.