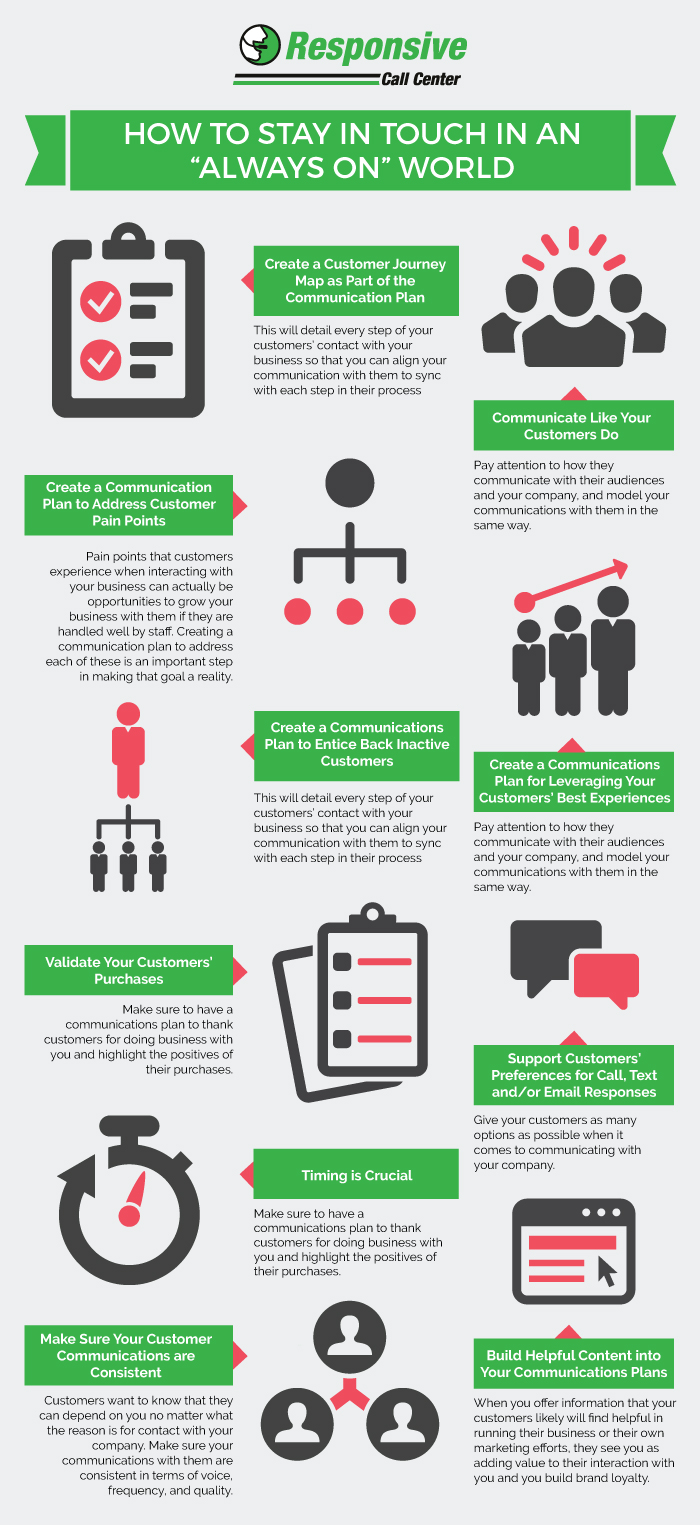 The right telephone answering service will be an expert at helping you employ a variety of communication methods to help you stay top-of-mind with your customers. At certain points of customer contact, it is crucial to know and employ the best communication methods for the purposes of positive customer response and conversion rates.
Here are a few tips on how to create and use the best direct response tactics:
Create a Customer Journey Map as Part of the Communication Plan
This will detail every step of your customers' contact with your business so that you can align your communication with them to sync with each step in their process.
Communicate As Your Customers Do
Pay attention to how they communicate with their audiences and your company, and model your communications with them in the same way.
Create a Communication Plan to Address Customer Pain Points
Pain points that customers experience when interacting with your business can actually be opportunities to grow your business with them if they are handled well by staff. Creating a communication plan to address each of these is an important step in making that goal a reality.
Create a Communications Plan for Leveraging Your Customers' Best Experiences
With the advent of social media, customers' recommendations have become even more important than ever before. Create a communication plan to incentivize your happiest customers to spread the word.
Create a Communications Plan to Entice Back Inactive Customers
Chances are good that these prospects can be brought back into your company's fold with the right contact and incentives.
Support Customers' Preferences for Call, Text and/or Email Responses
Give your customers as many options as possible when it comes to communicating with your company.
Validate Your Customers' Purchases
Make sure to have a communication plan to thank customers for doing business with you and highlight the positives of their purchases.
Keep Communication Simple
Make sure that all of your options for customer communication have as few steps as possible.
Timing is Crucial
Are you communicating with your customers when it is most important that they hear from you? Make sure that your communications don't lag behind customer activity or desired activity.
Build Helpful Content into Your Communications Plans
When you offer information that your customers likely will find helpful in running their business or their own marketing efforts, they see you as adding value to their interaction with you and you build brand loyalty.
Make Sure Your Customer Communications are Consistent
Customers want to know that they can depend on you no matter what the reason is for contact with your company. Make sure your communications with them are consistent in terms of voice, frequency, and quality.
For more than 40 years, Responsive Call Center has created and managed customer communications plans for numerous industries, including medical, legal, commercial services (plumbing, HVAC, etc.), real estate and property management, construction, government agencies, and charities. Our team of live operators are available all day, every day to handle your business calls the same way you would; you will see the difference when your business no longer relies on answering machines or automated phone systems. Our highly trained staff will make sure you never miss your customers' calls. Contact Responsive Call Center to discuss the ways we can help you manage your calls.