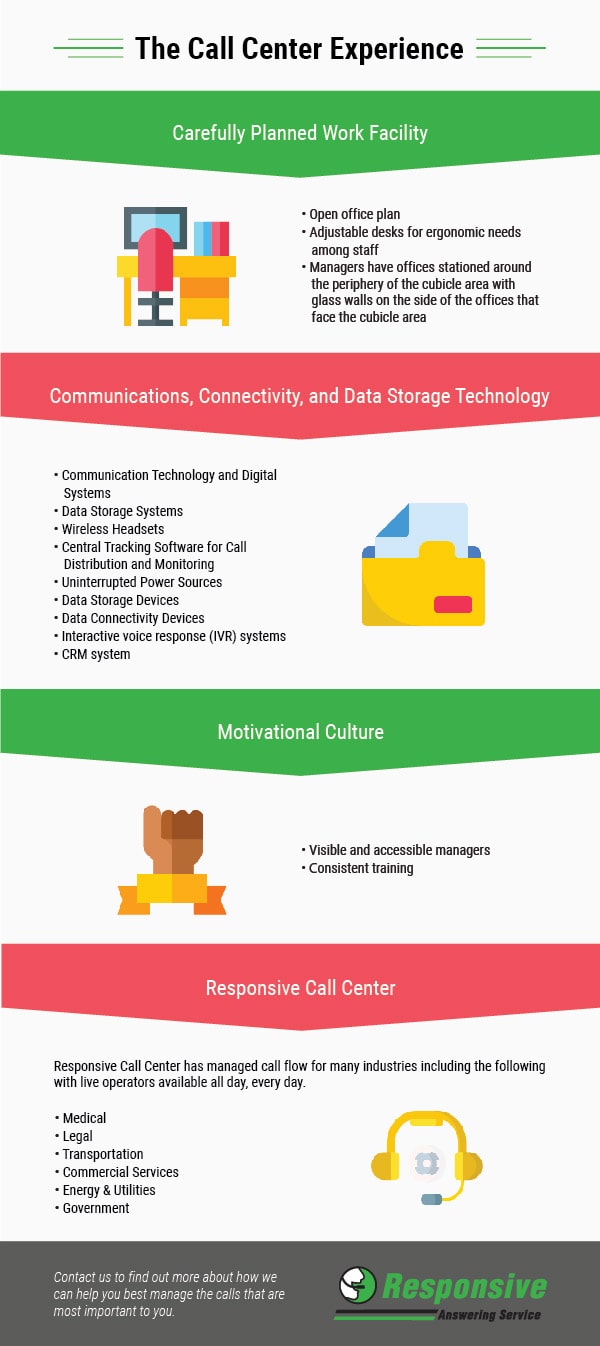 As more and more businesses work with call centers to boost their company's customer service and sales programs, the industry has kept pace by creating state-of-the-art operations facilities. All successful modern call center operations have a carefully planned and comfortable work facility, the latest communications, connectivity, and data storage technology, as well as a motivating culture.
Carefully Planned Work Facility
Call center headquarters are typically designed in an open office plan that facilitates communication among staff. While many have cubicles to provide some level of privacy for staff conducting individual tasks, their walls are generally around half the size of typical cubicles to best meet the need for team communication among operators. Cubicle walls are typically freestanding and portable, so they can be moved according to the changing staff requirements of the center.
Desks and other work surfaces are adjustable to meet the varying ergonomic needs of individual staff, and adjustable chairs are chosen with staff comfort in mind. They typically have small wheels that allow for fast movement in small spaces. Managers usually have offices stationed around the periphery of the cubicle area. These all will have glass walls on the side of the offices that face the cubicle area for staff supervision purposes.
Restrooms and break rooms are important respite areas for call center staff, who are usually doing intense, repetitive, and highly time-sensitive work.  These are typically outfitted with a greater amount of supplies than those of more traditional businesses to support shift work. Break rooms will be outfitted with a range of snack, beverage, and meal options available from computerized vending machines – in addition to complimentary cool water, coffee and tea. The staff enjoys their breaks at the room's tables, chairs, and sofas.
Communications, Connectivity, and Data Storage Technology
At the heart of all call centers is the technology used to communicate among staff and with clients. Also key are the data storage systems. These include:
Desktop computers with several screens that allow for multi-tasking
Wireless headsets that facilitate the operators' ability to type and retrieve files relevant to calls
Central tracking software that distributes waiting calls in the order they were received and gauges the time operators spend on each call
Uninterrupted power source so the center functions under any circumstance
Data storage devices
Data connectivity devices
Voice connectivity devices
Interactive voice response (IVR) system to collect sensitive data
A customizable customer relationship management (CRM) system to suit individual clients needs
Motivational Culture
Having a motivational culture within a call center is essential. Perhaps more than anything else, the culture of a company affects how its staff delivers customer service. Several techniques have proven successful over the history of the call center industry, such as:
Visible and accessible managers
A program to recognize and reward success on a regular basis
A protocol for suggestions from staff
Available coaching and skills-building education
Consistent policy implementation
Responsive Call Center has all of the above and more.
Responsive Call Center has managed call flow for many industries, including medical, legal, transportation, HVAC, plumbing, real estate, property management, construction, government, leisure & travel, and much more for over 40 years. We have live operators available all day, every day to handle your business calls the same way you would so you do not have to rely on answering machines or automated systems. Our state-of-the-art equipment and highly trained staff allow us to make sure you never miss your customers' calls again.
Contact Responsive Call Center to find out more about how we can help you best manage the calls that are most important to you.