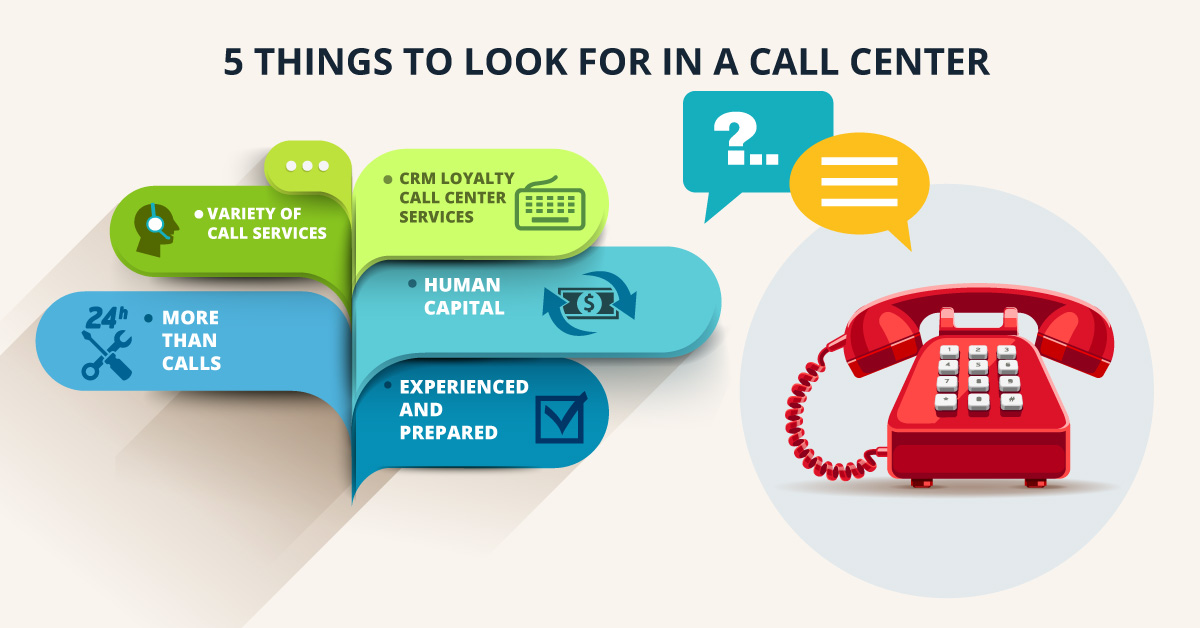 We all know how frustrating it can be to be put on a lengthy hold. No one enjoys waiting on the phone to speak with someone when there is a pressing need or concern. However, making your employees bounce between providing customer service in addition to completing their job can result in unanswered calls, rushed responses and uncompleted tasks. These problems can damage your customer rapport and ultimately hurt your company. Outsourcing your calls to a call center alleviates a lot of stress on your company and provides customers with the individualized attention they want and need. Finding the right call center can be quite tricky, as the differences between various companies lies in the services offered. By hiring a call center, you are creating an extension of your company; be sure to select a call center that understands the needs of your company and your customers.
Tips for Finding the Right Call Center
Take a look at these 5 tips for finding the right call center for your business:
1. Variety of Call Services
Finding the right call center service provider has a lot to do with finding a company that is specialized in a variety of services. You want to make sure the company you select can offer the services that match your company today and can keep up with your company's future growth. Look for a company that offers Inbound Services such as customer service, order management and CRM systems, as well as Outbound Services such as quality assurance, telemarketing, credit card processing and employment screening. By hiring a company that offers both inbound and outbound services, you are assuring a long-term relationship and consistency for your clientele; both of which promote customer loyalty and drive your business toward success.
2. CRM Loyalty Call Center Services
Customer Relationship Management (CRM) software solutions help call center agents connect to clients by accessing the correct information and knowledge about a customer's history in order to ensure customer satisfaction. This provides call center agents the tools to understand your customers and meet their needs quickly and efficiently. There are many different platforms for CRM and finding a call center that offers customized CRM platform options and can integrate with your existing company platform is vital. By employing a call center who can seamlessly join your company, you can improve your company without changing it.
3. More than Calls
Find a company that offers more than call services in handling customers. Some call centers offer services such as database management. This means that the call center is doing more than just answering or making calls; they are analyzing calls and providing insight about your customers for your company. By hiring a call center that offers database management, you are helping your company improve your customer base by creating segmentation models that enable targeted marketing campaigns. This can also improve customer retention rates by studying customer behavior and satisfaction. Other services such as lead screening, fulfillment services, and credit card processing can greatly improve customer satisfaction as well.
4. Human Capital
Be certain that the call center you hire employs agents that are constantly trained and updated in call center service skills, product knowledge and business understanding programs. These agents should also be in close contact with supervisors who are well versed in problem resolution and effective management. Find a call center that consistently examines and evaluates service representatives to ensure proper training, knowledge of your company and how to tend to your customers. Finding a center with onshore representatives in addition to bilingual representatives promotes customer comfort and acquisition.
5. Experienced and Prepared
Finally, consider qualities in a call center that would ensure your company is properly cared for during emergencies. Find a company that is experienced and prepared. Your services need to be available 24/7 regardless of emergencies. While hiring a call center to handle customer support alleviates your work load, it also places a lot of responsibility in someone else's hands. Find out whether the call center offers several onshore and offshore locations and can continue to function despite natural disasters such as hurricanes, tornadoes or earthquakes in case services need to be transferred temporarily. Make sure the call center offers recovery strategies and recovery teams as well should emergencies such as fire or flood occur.
Responsive Call Center has 40 years of experience managing inbound calls as well as outbound call center services such as telesales, telemarketing, lead and employment screening, credit card processing and disaster recovery among other services. Responsive employs specially trained agents available 24 hours a day, 7 days a week in several call center locations across the United States in addition to international call center operations. They offer state of the art technology through telecommunications hardware and software solutions as well as customer management, database management and fulfillment and order tracking. Contact Responsive Call Center to help you improve customer satisfaction and growth today!