Call centers play a vital role in improving the customer experience for many businesses. They take on the critical task of assisting with sales, customer relations, and technical support. However, how do we measure a call center's quality assurance?
How to measure quality assurance
Quality assurance can be measured using several factors your call center choices should provide. To start, you will want to be able to rate calls based on how many went as expected and how many could be improved. Additionally, you should look at how long callers had to wait on the line, how many needed to be transferred multiple times, or how many had to call back several times. Different businesses may choose to measure varying factors as they relate to their industry but there is a much larger discussion to be had in terms of measuring quality assurance. Let's break this down . . .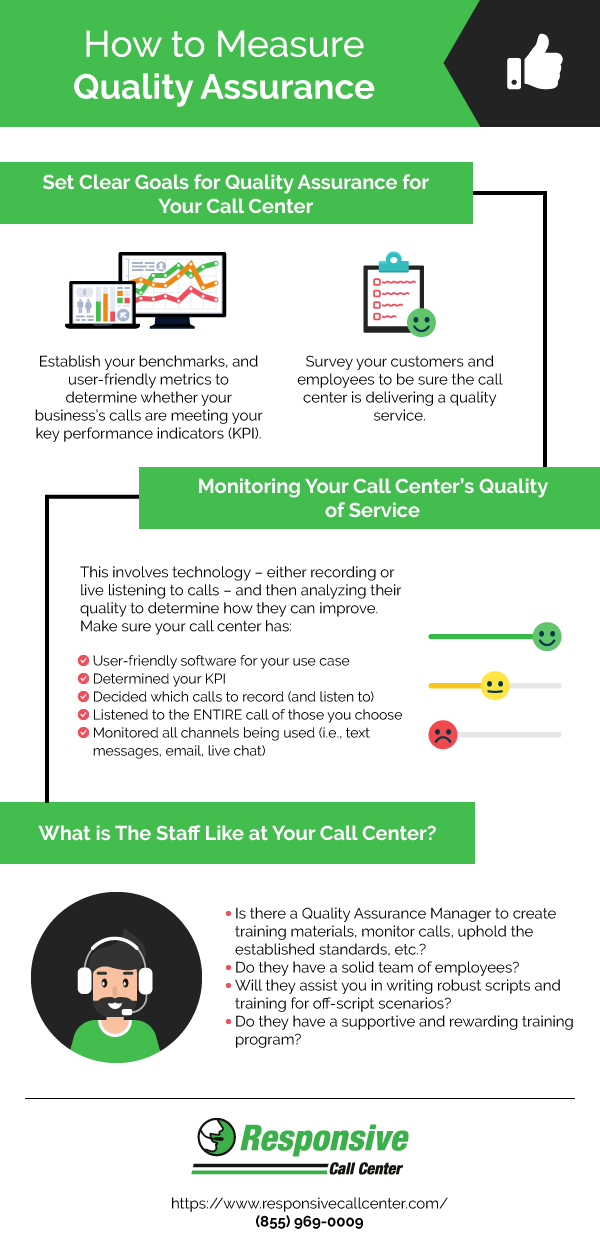 Set clear goals for quality assurance in your call center – Establish your benchmarks because you need to have something to look back at and will want to track changes over time. If you are interested in measuring appointments set from inbound sales calls, let your call center know and they will develop a way to measure that for you. Whatever you need to know, make sure your call center can accommodate your business needs. As a backup, ask your customers what they want by providing a brief survey after every interaction and then analyze these results. Include your employees in the survey, are they getting enough actionable information from your call center?
Monitoring a call center's quality of service – This involves technology – either recording or live listening to calls – and then analyzing their quality to determine how they can improve. Make sure you can listen to all calls, to validate they are adhering to your procedures and brand culture.

Software – Based on your goals, does your call center have software that can automate some of the quality assurance? Is it user-friendly, do they protect the security of data, adhere to HIPAA guidelines, etc.?
KPI – The most important factor in calculating a call center's quality assurance focuses on the business's essential metrics. What key performance indicators (KPI) are the most important for your business? This has to be narrowed down.
Decide which calls to record – It may not be practical to expect thousands of calls to be listened to so you may need to narrow down which calls to record and listen to based on your KPI.
Listen to the ENTIRE call – Once a decision is made about which calls to listen to, they must be listened to from beginning to end. Otherwise, you're not getting the full picture – How did the call start? Was the agent professional, friendly, clear, etc.? Was the problem fixed? How was the call closed?
Monitor all channels being used – If emails, live chat, or text messages are also being used, these need to be able to be monitored as well.
Looking at your Call Center's Staff

Do they have a Quality Assurance Manager? – This is a different role than that of a Call Center Manager. A Quality Assurance Manager will create training materials, monitor calls, uphold your established standards, etc.
Do they hire the ideal employees? – Ask to listen to some "staged" calls or role-playing exercises with their employees.
Write robust scripts – A well-written script is a staple and can make or break your experience with a call center. These need to be revised on an ongoing basis based on call monitoring. Going off-script is sometimes necessary but only experienced agents will feel confident enough to do this – practice scenarios will help prepare them. Ask how this is handled.
Create a supportive and rewarding training program – Monitoring calls and communication with the call center will help determine areas that need attention, and the training should be catered to the individual agent to ensure he/she is effective. Everyone likes to be recognized for a job well done so be sure your call center has established a program for rewarding agents who meet or exceed KPI.
What are some reasons for outsourcing calls?
There are many reasons to outsource calls. First and foremost is the high cost of hiring enough staff to handle the services a call center can offer. Why go through the trouble and expense of hiring, training, and paying new employees to conduct these services when you can easily hire a call center at a fraction of the cost? Additionally, you can offer call center services to your clients 24 hours a day, 7 days a week, making it possible to serve clients worldwide. By hiring a call center, you also save on the telecommunications software and hardware necessary to handle large call volumes and call analytics. Our call center agents are highly trained and experienced – they can offer your clients incredible service.
Are you ready to see what hiring a call center can do for your business? It's time to speak with the experts at Responsive Call Center today to find out more!