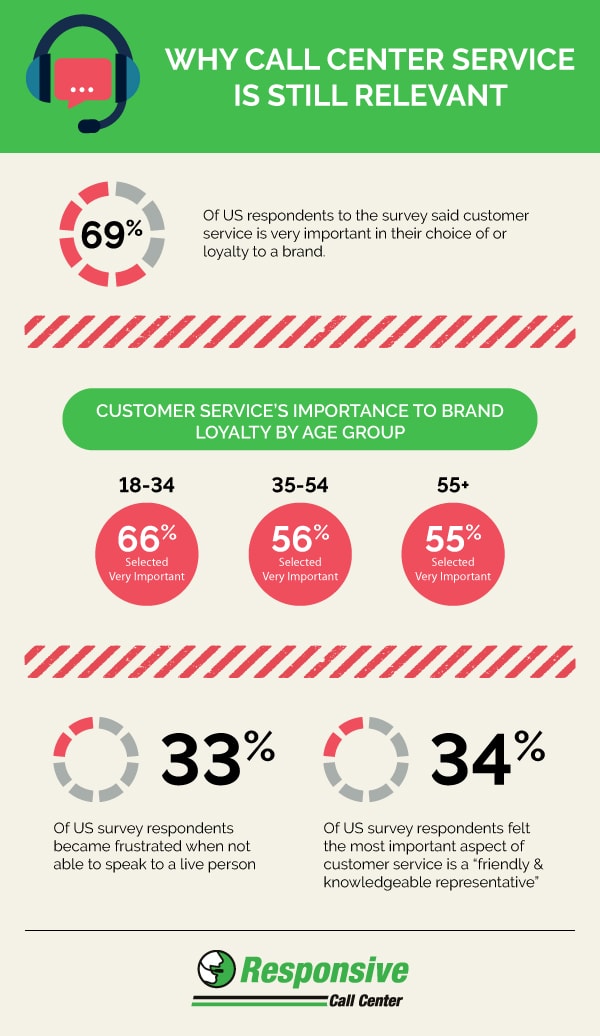 While it may seem logical that customers would prefer service delivery online or via phone without a human involved, that's actually not the case at all. Today's customers expect more from brands than ever before and these companies need to step it up if they are to be successful. How do call centers factor in?
Microsoft's 2017 State of Global Customer Service Report found that 69% of US respondents to their survey said customer service is very important in their choice of or loyalty to a brand. The report also elaborates that knowing that customer experience is such an important factor, it is essential to "deliver personalized and contextual interactions throughout the customer journey." Breaking this down further by age group around the world, the message is clear – customer service is very important in the choice of or loyalty to a brand.
• Ages 18-34 – 66% selected Very Important
• Ages 35-54 – 56% selected Very Important
• Ages 55+ – 55% selected Very Important
In the US, the phone is the customer service channel respondents use most – 74% of respondents have used the telephone as a customer service channel. In fact, the phone is more popular than email, in-person, live chat, mobile app, text message, self-service, chat bot, search engine, social media or online community in the US and in most areas of the world represented in the study.
Keep in mind, however, when asked about what the most frustrating aspect of a customer service experience is, 34% of US respondents selected "Automated Telephone System (IVR)/inability to reach a live person for customer support." Microsoft's study reports that 59% of US respondents say they have stopped doing business with a brand because of a poor customer service experience. Seeing as customers base their loyalty to a brand, in part, on their customer service experience, businesses looking to hit the mark with their customer base need to understand that people still prefer to speak with another person when it comes to receiving service from a company and furthermore, they will discontinue doing business with a brand when not pleased with a customer service experience.
In the 21st century, some may be shocked by these results but the results make it clear that businesses with the most responsive call centers will have a significant competitive edge. Many such businesses will choose to partner with a highly-skilled telephone call answering services provider due to the substantial infrastructure involved in delivering the best call center-based customer service. They also recognize that this partnership provides them with more time to focus on growing their business because experts are managing their customer service call center.
According to the US respondents, 33% to be exact, "a friendly & knowledgeable representative" is the most important aspect of a good customer service experience. The right call answering service will have live operators trained in the specifics of your business available 7 days a week, 24 hours a day to speak with your customers and potential customers. This means that your business is open all day, every day with trained professionals always ready to represent your brand which should translate into brand loyalty from your customers.
At Responsive Call Center, we provide that and more. Our operators follow your predetermined protocol so that every caller receives the attention they need to solve their problems. They use state-of-the-art equipment to make certain that you never miss any of your customers' calls. This combination delivers growth for your business and leads to happy customers who refer your business to others.
Responsive Call Center offers a complete menu of call answering services that includes bilingual answering capability, virtual receptionist services, call screening and forwarding, online faxing, and emergency dispatch.
Contact us today to discuss how we can help your business grow while improving customer loyalty and make sure that you receive all of your important calls.